Teaser
table of content
course:
Almudena Gonzalez (English) : Learn to play Tsuru-no-Sugomori piece
level:Intermediate and Advanced
duration:1h 30m
language:English
subtitles:---
released:March 17, 2014
description:Learn in this course with Almudena Gozalez how to play the piece call Tsuru-no-Sugomori, a Japanese traditional shakuhachi piece arranged by Will Offermans. This tutorial was filmed at Fattoria Palazzo Vecchio NOTE: The score for this tutorial need to be purchased separately. You can buy it here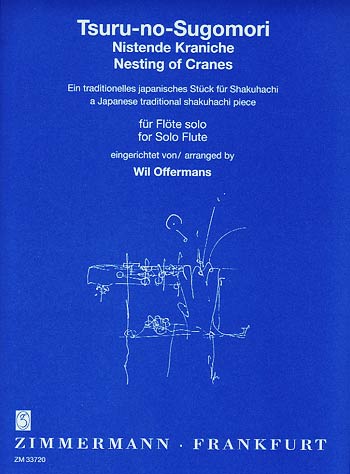 BIOGRAPHY: Almudena González studies at Conservatorio de Musica de Granada, Conservatorio Giuseppe Verdi de Milano, Liceu de Barcelona and Trinity College of music with Juan Carlos Chornet, Bruno Cavallo, Julia Gallego, Wissam Boustany, Emmer McDonough and Sue Thomas. She studied under the Cordelia Mosses and Trinity Trust Scholarships. She studied with Robert Winn in Cologne.   She has attended Masterclasses with Jacques Zoon, Juliette Hurel, Julia Gallego, János Balint , Wil Offermans , Philip Bernold, Salvador Martin, Miguel Ángel Angulo, Karen Jones, Sue Thomas, Andrea Lieberknecht, Paul Edmund Davies...   In 2010 Almudena was awarded the "Special Award" at the British Flute Society Young Artist Competition, in thesame year she was also a finalist at the, Harold Clarke Woodwind Competition and the Jury Special Award on OnWings competition with the Sideris quintet in Holland 2011.   She performed in venues such the South Bank Center, English National Opera Colliseum, Ronnie Scotts,  Làuditori de Catalunya, Auditorio Manuel de Falla, Sala María Cristina, Teatro de la Comédie Clermond Ferrand between others and was invited to festivals as Jonh Cage Centenial Musicircus in Londo (ENO), British Flute Society, CAMAC Harps Festival, Festival Noche de las Velas en Segovia, Time and Space at the Royal Observatory.   She worked with artist like Steuart Bedford, Edward Gardner, Michael Stern, Sian Edwards, Jonh Paul Jones, to mention some.   She has colaborated in orchestras as London Mahler Orchestra, London Youth Symphony Orchestra, BCN216, Janáček Youth Philharmonic Orchestra, ISSO – International Students Symphony Orchestra, Ensemble XXI, Academia de la Orquesta Ciudad de Granada.   Another music ensembles includes Sideris Quintet, Bardac Trio, Brotons Duo, London Sound Painting Orchestra to mention some.   At the moment she lives in Barcelona where she is finishing her thesis with proffesor Vicent Prats at ESMUC (Escola Superior de Música de Catalunya).